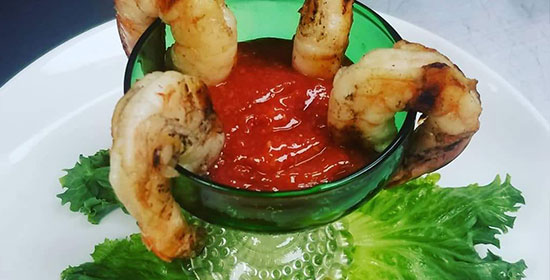 1st serving of bread with herb butter complimentary- refills 1.5
House Salad 5
greens | red onion | carrot | cucumber | tomato | radish | smoked egg | croutons
Caesar Salad 6
Blackened Shrimp or Scallop Grits 18
cheddar grits | onion|pepper | bacon | sweet & spicy honey
Chef's Soup  Cup 5 | Bowl 7.5
Wood-Grilled Veggie Plate 10
portobella | zucchini | onion | bell pepper | mandarin teriyaki | rice pilaf
+chicken 5 | steak 7 | grilled shrimp 7 | salmon 10
Tempura Calamari 13
sweet thai chili
Wedge Salad 8
iceberg | red onion | tomato | bacon | bleu cheese crumble | bleu cheese dressing
Filet Tip Bruschetta 15
marinated filet tips | bruschetta mix | shaved parmesan | balsamic glaze
Steamed Mussels & Clams 14
white wine | garlic butter | toast points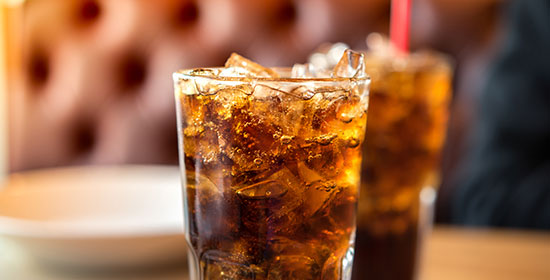 2.75
Pepsi Products
Lemonade ~ Raspberry Tea
Sweet Tea ~ House Brewed Tea
Decaf and Regular Coffee
Featuring "The Meredith Blend" by Ohiopyle Coffee Roasters 3.25
Selection of Hot Tea 3.25
Bottle of San Pellegrino 3.5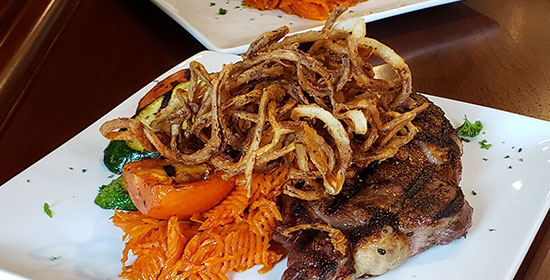 Entrees are served with potato or rice & featured vegetable. Pastas are served with house salad or cup of soup.
8 oz Sirloin* 28
6 oz Center-Cut Filet* 36
12 oz Angus Choice New York Strip* 40
16 oz Angus Choice Ribeye* 48
Steak Toppers
Bleu Cheese 4 | Sautéed Portobellas 3.5 | sauteed onion 2 | Grilled Shrimp 7 | sea scallops 13 | 6 oz lobster tail: market price
Seafood Scampi 32
pappardelle pasta | sea scallops | shrimp | crab
½ Rack Cranberry BBQ Baby Back Ribs 22
New England Baked Whitefish 17
premium whitefish filet | white wine | butter | golden brown panko
Caesar Salad 12
crouton | parmesan | caesar dressing
chicken 5 | steak 7 | shrimp 7 | salmon 10
Chicken Bruschetta 22
bruschetta mix | balsamic glaze | shaved parmesan
Senator's Feast 55
lobster tail | mussels | clams | sea scallops | shrimp
Smoked Trifecta 29
smoked brisket | filet tips | sweet sausage | corn and black bean rice | bourbon glaze
Chicken Monterey 22
caramelized onion | bacon | monterey-jack | honey | red pepper flake
Pittsburgh Salads Chicken 15 or Steak* 19
greens | red onion | carrot | cucumber | tomato | radish | smoked egg | cheese | house-cut fries
Spinach Tortellini 16
ricotta stuffed pasta | bacon | spinach | garlic cream
+chicken 5 | steak 7 | shrimp 7 | salmon 10
Canadian Twin Lobster 54
Surf N Turf Burger 19
beef | bacon | crab meat | remoulade | lettuce | tomato | onion | shrimp cocktail | garlic parmesan house-cut fries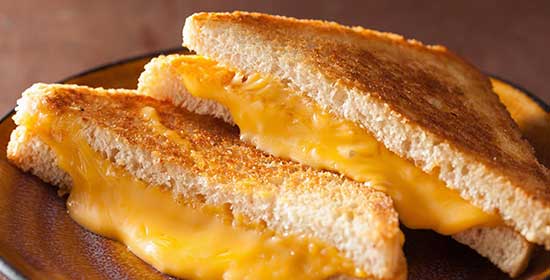 For our guests 12 and under only.
Chicken Tenders 8
With house cut fries
Buttered noodles with parmesan 4
Grilled Cheese 5
With house cut fries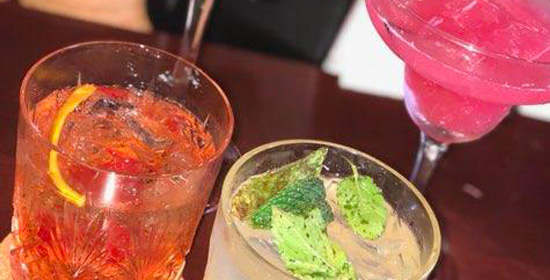 Apple Butter Old Fashioned 10
bourbon | apple butter | apple cider | bitters
Apple Cranberry Moscow Mule 8
apple whiskey | cranberry juice | lime | ginger beer
Pumpkin Pie Martini 9
pumpkin liqueur | pumpkin pie vodka | Irish cream
The Nutty Irishman 9
Frangelico | Irish cream
French Manhattan 12
Woodford Reserve | Chambord | bitters
Salted Caramel White Russian 8
salted caramel vodka | Kahlua cream | caramel drizzle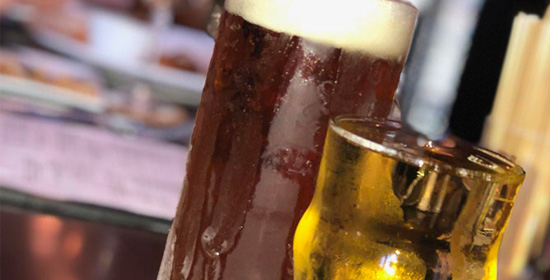 Miller Lite
Yuengling
Moosehead
Blue Moon
Sam Adams Seasonal
Guinness

6 Rotating Craft and Seasonal Taps
House Wine
Sycamore Lane Pinot Grigio, Chardonnay, and White Zinfandel 7.00 Glass
Quadri Pinot Grigio, Italy 9/27
Delicately perfumed with scents of flowers and spice, it features almond, tangerine and apricot fuits. Softly textured and balanced with a crisp citrus finish.
Seeker Sauvignon Blanc, New Zealand 10/30
Aromas of citrus, stone fruit and freshly cut grass. This wine has a refreshing and vibrant palate with flavors of lime, grapefruit and sweet summer herbs leading to a long and juicy finish.
Cambria Chardonnay, California 10/30
Pink grapefruit, tangerine, pineapple, white peach, citrus blossom, and apple flavors are balanced by a bit of wet stone, oak spice and bright acid.
Salmon Run Riesling, New York 10/30
Bright fresh fruit with dominant characters of fresh pineapple and lemon sorbet. The light sweetness is well balanced by a refreshing acidity and soft mouth feel.
Corvo Moscato, Italy 8/24
Delicate aromas of Mediterranean flowers with a bright, candied finish. Light, fresh, lively, pleasantly aromatic.
Cline Rose, California 10/30
Pleasant aromas of red currant, strawberry, and fresh plum and flows onto the palate with medium-body, layers of cherry, and a hint of plum.
Bubbly
Zonin Prosecco 8/24
Fresh, fruity, well-balanced and appealing, with the extremely delicate almond note that is typical of Prosecco.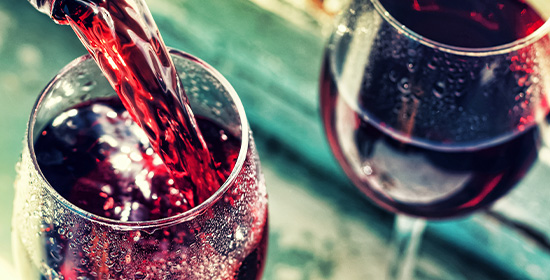 House Wine
Sycamore Lane Pinot Noir and Cabernet 7.00 Glass
Rainstorm pinot Noir, Oregon 11/33
Soft and elegant with flavors of bright cherry, pomegranate and red berries.
Elsa Malbec, Argentina 10/30
Aromas of ripe red fruits predominate, with a floral touch of violets. Fresh and elegant with round tannins and medium structure.
Charles & Charles Merlot, Washington 11/33
Aromas explode with black cherry, dark chocolate and boysenberry and then follows up with notes of vanilla. The wine is both forceful and elegant and finishes long and lush.
Silver Palm Cabernet, California 11/33
Flavors of black cherry, spice and oak with round firm tannins lead to a soft, silky, lingering finish.
Bully Hill Sweet Walter Red, New York 8/24
The original sweet red wine. Hark's back to drinking fresh grape juice as a kid. Good ol' Concord gives this wine it's grapey signature aroma and flavor.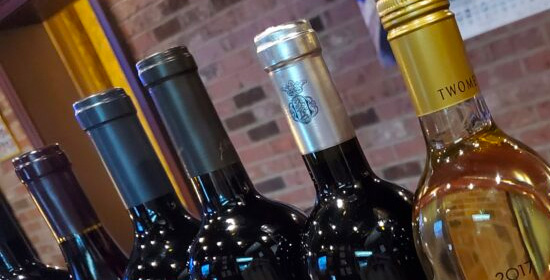 Twomey by Silver Oak Sauvignon Blanc, California 44
Offers aromas of grapefruit, lemongrass and orange blossom. The palate is driven by citrus, electric and lively acidity. the wine finishes with flavors of pineapple and cream cat on the palate.
Bravium Chardonnay, Russian River Valley 42
This bright and balanced wine perfectly reflects the cool-climate Russian River aller=y vineyard. The wine opens with gorgeous sweet apple and pineapple fruit flavors, with vanilla and honeycomb notes. This is framed by crisp fruit and subtle oak-derived flavors.
Etude Pinot Noir, Carneros 45
Etude Carneros Estate Pinot Noir shows a silky, elegant mouthfeel with juicy, fresh flavors of dark cherry, boysenberry and plum. the core of exuberant red fruit is rounded out by notes of baking spice and sandalwood, and a fine tannin profile frames the concentrated, yet vibrant fruit flavors.
Pedroncelli Merlot, Sonoma 38
Flavors of red plum raspberry and notes of balck pepper are showcased along with a touch of vanilla and tasty oak. Medium-bodied with rounded tannins follow through to a spicy and lingering finish. A beautifully balanced wine.
Trivento Golden Reserve Malbec, Mendoza 46
Trivento Golden Reserve Malbec expresses the sharpness of red fruits such as raspberries and blackberries. This full body wine has vibrant tannins, round structure, and a juicy finish.
Taken Red Blend, Carneros 71
This opulent, approachable blend showcases a silky palate with fruit forward flavors. This wine has a medium body full of maraschino cherry, sweet currant and crushed violets leading to a soft, silky, lingering finish.
Foppiano Red Zifandel, Russian River Valley 48
Lavish red plum aromas combine with ones reminiscent of crushed blueberry mixed with white pepper and cedar. Flavors include red raspberry, strawberry, huckleberry and allspice which lead to a balanced wine with natural acidity and soft tannins.
Burgess Cabernet, Napa 60
Gorgeous black fruit, gravel, violets, black cherry, anise, juicy palate with nice structure and velvety tannins along with chocolate flavors. Finishes with very elegant bittersweet tannins.
Ornellaia "Le Volte" Super Tuscan, Tuscany 55
Le Volte Ornellaia perfectly reflects the characteristics of the vintage, revealing great elegance and balance. Its nose is wonderfully complex, very fruity with delicate floral and spicy notes. The tannic and smooth texture is striking on the palate, ending in a crisp and lively finish.
Silver Oak Cabernet, Alexander Valley 145
This wine has an enticing nose of cassis, blackberry, vanilla, sage and spearmint. Upon entry, this wine builds from potpourri and bramble to a bright pop of raspberry on the mid-palate. Ajuicy finish with chewy tannis and a medium length.