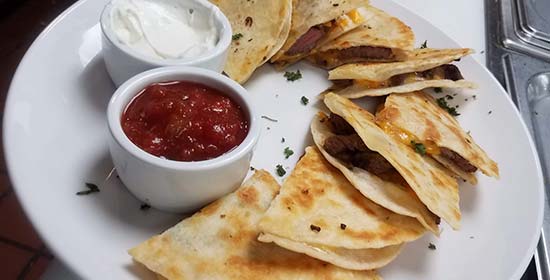 Receive your food in 15 minutes or less!
11:00AM to 2:00PM, No subtitutions. No discounts or coupons apply.
You Pick Two
Choose one item from each section below. 9.50
1) Cottage Cheese with Fruit | Loaded French Fries | Vegetable Today | Coleslaw | Meredith House Salad
2) Sandwich Today | Cheddar Burger | Bowl of House Made Soup Today
Wraps and Bowls
Grilled Veggie Wrap
House marinated veggies wood-grilled and wrapped in a flour tortilla. Served with coleslaw. 9.50
Chicken or Steak Quesadilla
Shredded smoked chicken or steak and a variety of cheeses on a flour tortilla. Served with sour cream and salsa. 11.00
Chicken or Steak Burrito Bowl
Shredded smoked chicken or steak, black beans, white rice, tomatoes, onions, and lettuce served in deep fried bowl. Served with sour cream and salsa. 13.50
Homestyle Favorites
Haluski
Classic cabbage and noodles. 6.50
Teriyaki Meatball Bowl
House made teriyaki meatballs served over garlic whipped potatoes with veggie of the day. 12.00
Cheesy Chicken and Rice
White rice with shredded smoked chicken and melted cheese. 10.50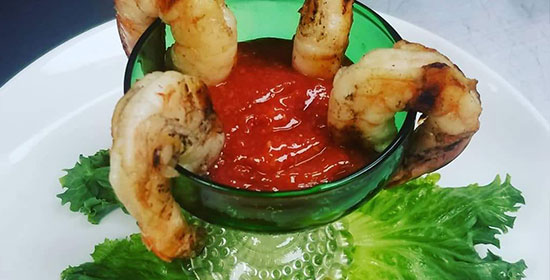 Baked Buffalo Cauliflower
Served with a side of blue cheese. 8.49
Rueben Egg Rolls
Served with our signature thousand island. 9.99
Jumbo Shrimp Cocktail
Wood-grilled and chilled with a side of kickin' cocktail. 12.49
Inn Sampler
Three bone rack of ribs, three croquettes, two rueben rolls, and a cheese quesadilla. 16.99
Seared Sea Scallops
With citrus beurre blanc and topped with pineapple salsa. 12.99
Blackened +1.99
Dip Trio
Salsa, spicy queso and guacamole with fried tortilla chips. 7.99
Stuffed Portabella Mushrooms
With ham and cheddar and served atop spicy queso. 9.49
Smoked Chicken Croquettes
A deep-fried heavenly combination of crispy and creamy. 8.99
Soup Today
Cup 3.49 | Bowl 5.49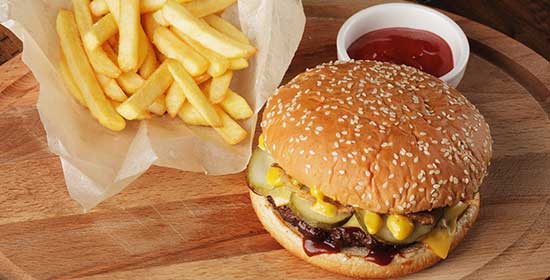 Served on a pillowy brioche bun with a side of house chips.
Sub any side for +199 or choose a signature side for +2.99
½ lb. Bacon Cheddar Burger
With lettuce, tomato, and onion. 10.49
½ lb. Bankers Steakhouse Burger
A custom blend of top sirloin and brisket. Blue cheese, horsey sauce, fried portabellas, haystack onions. Like a fantastic steak dinner built as a burger. 14.99
Jumbo Beer-Battered Cod
Filet of cod deep fried until golden brown. 12.49
The Eliza
Grilled or fried chicken breast with your choice of buffalo, barbeque, or horsey sauce. 9.99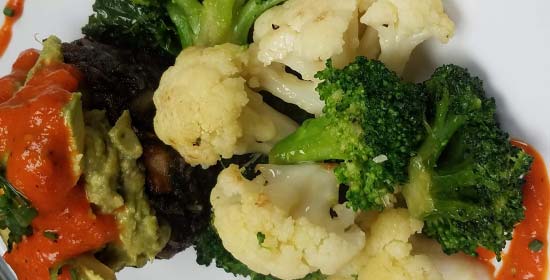 Mediterranean Power Bowl
Jasmine rice, black beans, spinach, bean sprouts, mushroom, tomato, red onion, and avocado in a lemon curry broth. 13.99
Wild Mushroom and Avocado Filet
Served with two sides.
With fresh herbs, sautéed kale, and red pepper coulis. 17.99
Grilled Portabella Sandwich
With tomato, spinach, red onion, and avocado on a gluten-free roll. 11.99
Stuffed Seasonal Squash
Served with two sides.
Israeli couscous, sautéed kale, and mushrooms. Topped with panko, green onions, avocado and fresh basil. 19.99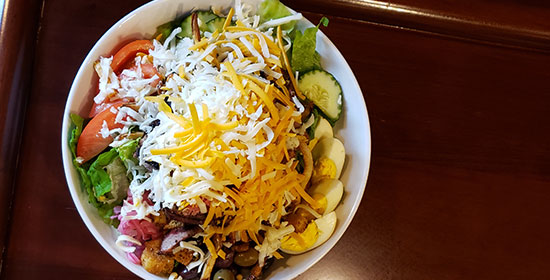 Ranch, Italian, Blue Cheese, Thousand Island, Poppyseed, Balsamic, Raspberry or Lemon Vinaigrette, Honey Mustard.
Blue Cheese Crumbles or Shredded Cheese Blend +1.49
Meredith House Salad
Tomato, cucumber, carrots, smoked egg, pickled red onion, and croutons atop crisp greens tossed in house balsamic. 4.99
Classic Pittsburgh
A larger version of the house salad piled high with fresh-cut fries, shredded cheese, and choice of chicken or steak. 13.49
Caesar
Romaine, fresh parmesan, croutons, and house Caesar. 9.49
Iceberg Wedge
Crunchy wedge of fresh iceberg, tomatoes, pickled red onion, bacon, blue cheese dressing. 8.99
Tomato Mozzarella
Thick slices of tomato, fresh mozzarella, and basil alongside mixed greens with balsamic reduction. 9.49
Add a Protein:
Avocado: 2.99 | Chicken: 3.99
Steak/Shrimp: 5.99 | Crab Cake: 10.99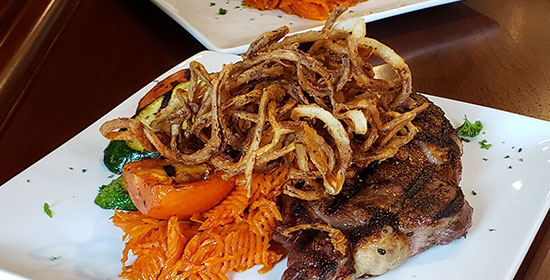 Wood Grilled Steak & Ribs
All beef is grass-fed, boneless, and graded USDA Choice.
Served with your choice of two sides.
6 oz. Center Cut Filet 24.99
14 oz. Delmonico 31.99
12 oz. NY Strip 26.99
8 oz. Top Sirloin 17.99
Cranberry BBQ Baby Back Ribs Half 16.99 | Full 27.99
Steak Enhancements:
Sautéed Portabellas 2.99
Sautéed Onions 2.49
Blue Cheese Crust 2.99
Rosemary Compound Butter 1.99
Blackened 3.99
Lobster Tail 15.99
Crab Cake 10.99
Southern Fried or Grilled Jumbo Shrimp 8.99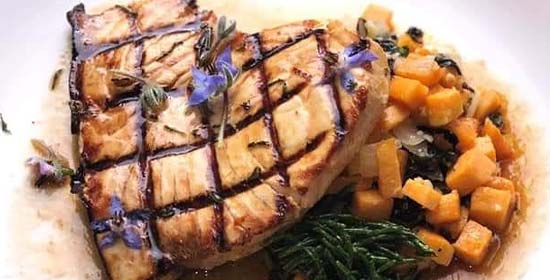 Served with your choice of two sides.
Honey Lemon Chicken
Pan-seared breast with honey, lemon, and spinach. 14.99
Teriyaki Chicken Kabobs
Wood-grilled breast and fresh cut veggies. 16.49
Chicken Cordon Bleu
Tenderized chicken breast stuffed with ham and swiss and topped with a house made cream sauce. 17.99
Walnut Trout
Seasoned and pan-fried with a sweet and tangy walnut crust, drizzled in orange buttercream. 23.99
Twin Lobster Tails
Seasoned with Old Bay and served with drawn butter. 34.99
New England Baked Cod
With lemon, butter, and a classic crunchy topping. 15.99
Senator's Feast
A phenomenal platter featuring a lobster tail, crab cake, shrimp and scallop scampi, and Coquille St.-Jacques. 42.99
Caroline's Crab Cakes
Jumbo lump crab pan-fried golden brown and topped with lemon caper remoulade. 25.99
Jumbo Southern Fried Shrimp
Butterflied and coated in a Creole pretzel breading. Served with a warm cocktail dip. 18.99
Wood-Grilled Pork Chops
Complimented by a smoked apple puree. 15.49
Served with a Meredith House Salad or cup of Soup Today.
Upgrade to a signature salad for +2.99
Chicken Spinach Tortellini
With bacon, garlic, cream and parmesan. 14.49 | 24.99
Shrimp and Scallop Scampi
On fettuccini with parmesan and green onions. 17.49 | 27.99
Pappardelle with Wild Mushrooms
With sage, olive oil, cream and parmesan. 12.49 | 22.99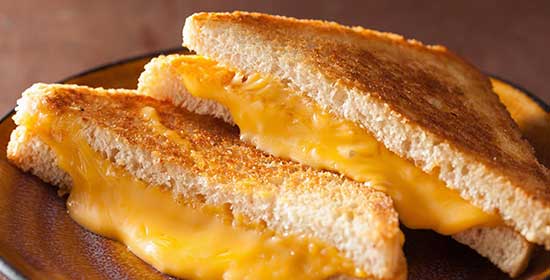 For our guests 12 and under only.
Served with carrot sticks, fresh-cut fries, or applesauce.
Grilled Cheese 4.99
Chicken Tenders 6.99
Cheeseburger 7.49
Pasta Alfredo or Marinara 5.99
Apple or Orange Juice, White Milk, Chocolate Milk 1.99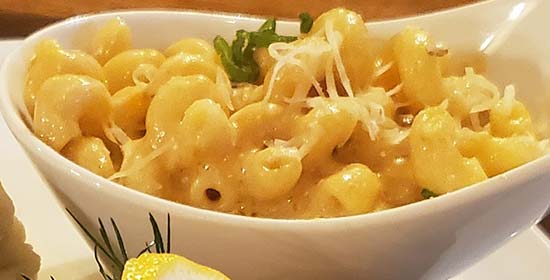 Sides
Baked Potato (after 4PM)
Garlic Whipped Potatoes
Vegetable Today
Seasonal Risotto
Fresh-Cut Fries
Meredith House Salad
Cup of Soup Today
Coleslaw
Load Any Potato for 1.49
Signature Sides 1.99
Wood-Grilled Vegetables
Smoked Mac 'n Cheese
Garlic Creamed Spinach
Broccoli Cauliflower Medley
Jasmine Rice
Signature Salads 2.99
Side Caesar Salad
Side Wedge Salad
Side Tomato Mozzarella Salad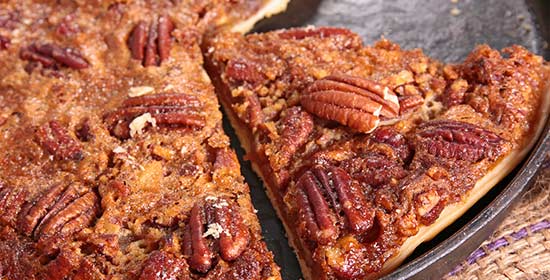 Your server will share with you our daily desserts and after dinner drinks.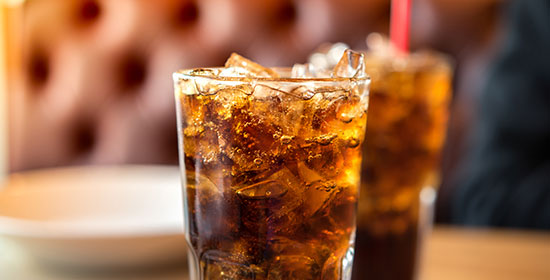 2.49
Pepsi Products
Lemonade ~ Raspberry Tea
Sweet Tea ~ House Brewed Tea
Decaf and Regular Coffee
Featuring "The Meredith Blend" by Ohiopyle Coffee Roasters
Selection of Hot Tea
Bottle of San Pellegrino 2.99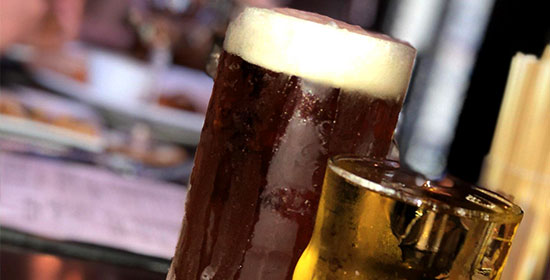 We are pleased to offer 12 taps, a thoughtful selection of wines by the bottle or glass, craft cocktails, and an assortment of bottled beers, coolers, and seltzers.