At The Meredith Inn we provide an atmosphere of casual upscale dining, there is no dress code just come as you are!
William Boling Meredith was born in Kittanning in 1839. His entire life was spent in Kittanning influencing a variety of business and public service functions, such as iron manufacturing, water supply, land development, banking, medicine, and the Pennsylvania militia. He also made a lifelong commitment to the Freemasons. He received the honor of becoming a 33⁰ Mason, which is earned by a very small percentage of members. Additionally, he was elected into multiple terms of the Pennsylvania Senate. He served as a Senator for eighteen years, and towards the end of his service, he built a grand home in Kittanning. He, his wife, and his daughters called Kittanning home until his death in 1924.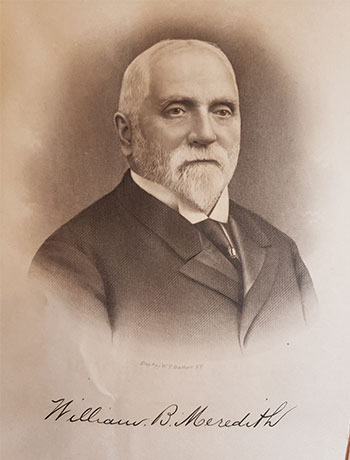 His youngest daughter, Caroline, continued to live in the home. In 1955, she and her husband sold the home to help fulfill a dream of the town and many of it is dedicated residents, the Armstrong County YMCA. Construction projects to create the YMCA facilities were completed in 1959, and "The Y" opened its doors to the community with nearly 30,000 attendees in the first year.
After more than five decades, the YMCA had outgrown their dated facility and started plans for a new campus. In 2013, the building was for sale and purchased by lifelong residents of Kittanning, Lee and Ed Walker. While initially they were not certain on what do with the property, one thing was for sure, they wanted to save this beautiful building.
In 2015, it was decided that the building would serve as a restaurant and event venue. Numerous construction projects began in order to transform the worn-out building, with the full restoration being completed in 2019. The Meredith Inn serves to honor the Meredith family as well as the thousands of memories made at the YMCA by generations of local families.
The vision of the Walker family, management, and staff is to not only provide an excellent dining experience, but to allow the community and visitors to continue old traditions and create new traditions for many years to come.
This historic property is located on North Water Street along the beautiful Allegheny River in Kittanning, Pennsylvania.
We have a small parking lot located to the right and rear of the building. The lot sits behind the fence of the Meredith Inn lawn. There also is plenty of public parking available on the block including North Water Street, Market Street, North Jefferson Street, and Arch Street. There are coin operated meters on these streets that take nickels, dimes and quarters only. A bit old-school, but quite affordable!